Griffith Centers for Children Chins Up
The mission of Griffith Centers for Children is to strengthen Colorado Communities One Family at a Time.
In 1974, a group of Colorado Springs attorneys and members of the local Kiwanis Club created CHINS UP (Children In Need of Supervision), an organization dedicated to providing community-based in-home programs and short term shelter for children and families in crisis. CHINS UP partnered with Griffith Centers for Children to provide residential treatment services for children in the Colorado Springs community in 1999. The two organizations formally merged in 2002. Today, Griffith Centers for Children Chins Up provides services to over 3,000 children and families annually. Programs reflect the belief that strong families empower children to feel safe so they can live lives filled with purpose and accomplishment, and that strong families and academic achievement are the backbone of every successful community.
Community-based support and resources, intensive and individualized case management, innovative programs and research-based therapies are utilized to keep children safe and to help them overcome the traumas of their past. Issues such as school failure, truancy, anger, delinquency, substance abuse and depression are but a few areas that can be effectively addressed, managed and overcome at Griffith.
Griffith works with the El Paso County Department of Human Services, Department of Youth Services, various school districts, and other service providers to avoid duplication of services and to identify available resources for additional support. The organization is a member of the Alliance for Strong Families and Communities and the Association for the Treatment of Sexual Abusers. Griffith helped establish the 12-member Coalition of Accredited Agencies, which was formed in response to the crisis in Medicaid funding for Colorado's Residential Treatment Center programs. In addition, Griffith is part of the Not One More Child Coalition, a group of administrators, educators, and officials working together to reduce the number of deaths due to child abuse and neglect. Lastly, Griffith takes part in the Pikes Peak United Way's Youth Venture Program, which provides students in the Griffith Centers School the opportunity to fund school programs and projects.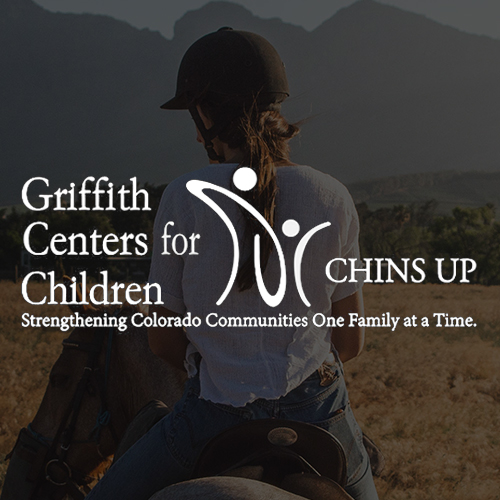 Learn more about the programs and services Griffith Centers for Children Chins Up offers.