Care and Share Food Bank for Southern Colorado
At Care and Share Food Bank, we believe that no one should go hungry. Our mission is to provide food, partnering opportunities and education to combat hunger and food insecurity in Southern Colorado communities. Our core purpose is to bridge the gap between hunger and abundance. Our vision is an end to hunger in Southern Colorado.
Since 1972, Care and Share has grown from an organization working out of a neighborhood garage in Colorado Springs to the sole food bank serving 31 counties across 52,000 square miles of Southern Colorado.
Food banks are different from food pantries or soup kitchens because we supply the food to these organizations, which we call our partner agencies, who in turn distribute the food directly to those in need. The food we provide through our 114 partners and programs throughout the Pikes Peak Region allows them to stretch their dollars for the work that they do best, such as job training, housing assistance, medical care and other critical services.
Southern Coloradans in need can also receive food assistance through The Emergency Food Assistance Program and the senior-focused Commodity Supplemental Food Program, which are both federal programs that we administer throughout our service area. Care and Share partners with youth enrichment programs, school districts, and community centers in 19 Southern Colorado counties to host over 70 Children's Nutrition Initiative sites that provide healthy snacks and meals to thousands of vulnerable children and their families. We provide nutrition education to low-income families through Share Our Strength's Cooking Matters program and provide SNAP (Supplemental Nutrition Assistance Program) outreach and application assistance in person and over the phone. We also host monthly Mobile Food Pantries throughout the year to help people supplement their monthly food budget. We partner with sites during the summer to host special bimonthly Summer Mobile Food Pantries. Sites that are already serving meals and snacks through the Summer Food Service Program distribute produce and staple items that help provide children and their families with nutritious food when they do not have access to school meals.
The millions of pounds of produce we procure each year come through collaborations with Feeding America, local Colorado farms, and state food bank associations such as Feeding Texas. We know that supporting Colorado farmers is important to the local economy and that their produce usually looks and tastes the freshest, so we strive to build and steward relationships with Colorado farmers to secure as much produce as possible from local sources. We also help our partner agencies establish relationships with retail stores in their communities, such as Kum & Go and Loaf N Jug, so that they can regularly pick up food donations directly from the stores. These partnerships yield thousands of pounds of fresh, prepackaged food that would otherwise go to waste, while also cutting the extra time and costs of transporting items to and from our facility.
Read their story here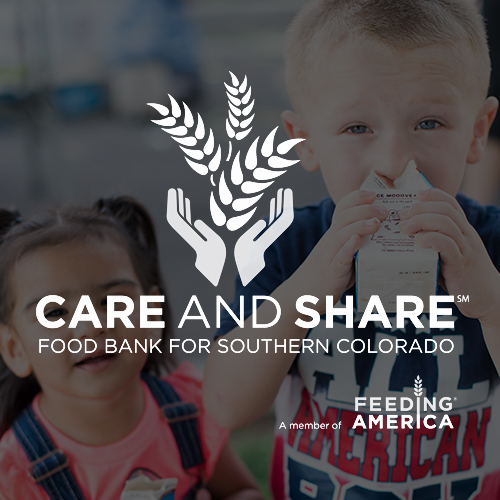 Learn more about the programs and services Care and Share Food Bank for Southern Colorado offers.