Mercy's Gate
From a foundation of faith in Jesus Christ, Mercy's Gate will bridge the gap from crisis to hope for our neighbors in need.
Mercy's Gate was established 37 years ago by five churches in northern Colorado Springs as a simple food pantry intended to meet the needs of the community. It was incorporated under the name Northern Churches Care in 1982. In 2012, the name changed to Mercy's Gate to reflect our expanded mission, partnerships and donor base.
Mercy's Gate's goals and objectives derive from a foundation of faith. But faith adherence is not required for Colorado Springs individuals and families (neighbors) who have emergency/urgent financial, physical, emotional or spiritual needs to receive services and support. Mercy's Gate exists to, both inwardly and outwardly, represent Christ to all who enter the doors whether neighbor, neighbor advocate volunteer, staff, church, business partner or donor.
Each year, Mercy's Gate serves approximately 30,000 neighbors in crisis from the Colorado Springs area regardless of their religious affiliation. Their crises vary—losing a job, a medical emergency, a death in the family, unexpected car expenses, etc. Many come while in transition, such as waiting for a new job to start, the unemployment check to arrive or food stamps to come.
We provide these neighbors in crisis with the following services:
Food: Families receive a three-day emergency supply of food up to four times each year.
Financial Assistance: Families receive financial help for rent, utilities, clothing and medical/prescription co-pays.
Faith Community Nurse – Penrose St. Francis Partnership: A registered nurse is available to assess health care needs, provide prescription assistance and link our neighbors with community resources.
Legal Advice: An attorney is available to assist neighbors with legal advice.
Budget Counseling/Job Counseling: Neighbor advocate counselors are available to help our neighbors with budgeting, financial planning and preparation for job search.
Mercy's Gate Ministry Center: At the center, we minister to the whole person – body, soul and spirit – through teaching, training and prayer.
Seasonal Programs: These include the annual Back-to-School event, Thanksgiving Basket Drive, Home for the Holidays Rent Assistance Program, and tax preparation for low-income households through Volunteer Income Tax Assistance Program (VITA).
Read their story here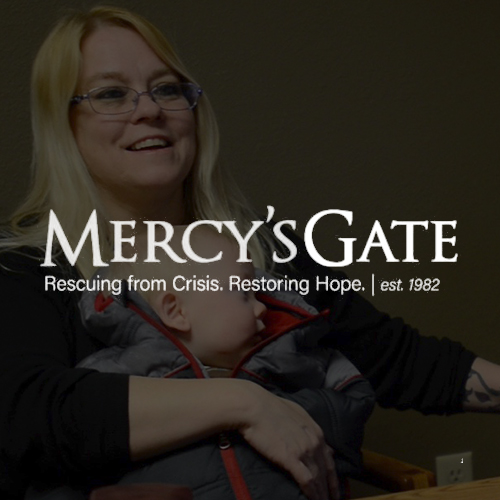 Learn more about the programs and services Mercy's Gate offers.