Safe Passage
Safe Passage gives abused children a voice and enables the healing process by acting as the single source of contact for medical, investigative, and legal services. Safe Passage serves children from birth to the age of 18, as well as intellectually developmentally disabled adults, who are victims of sexual or physical abuse and/or are witnesses to homicide or domestic violence.
The Children's Advocacy Center for the Pikes Peak Region (DBA Safe Passage) grew out of a smaller, less collaborative program operated by Colorado's Fourth Judicial District Attorney's Office. The founders recognized the need for a larger, comprehensive investigative and support program and, in response, developed this children's advocacy center, which was incorporated as a nonprofit in 1994 and is accredited by the National Children's Alliance.
Every year, children who are victims of sexual assault or physical abuse, or who are witnesses to domestic violence, homicide, and other violent crimes come to Safe Passage for critical forensic and healing services. The non-offending caregivers of the child victims also receive services at Safe Passage. Safe Passage coordinates the responses of partners in the law enforcement, medical, mental health, social services, and legal fields. Of service, Safe Passage continues to be recognized as an authoritative regional resource on child abuse and community partners draw on the organization's expertise for training. The comprehensive, wrap-around services offered by Safe Passage include:
Forensic Interviews – Specially trained and qualified Forensic Interviewers conduct on-site interviews with child victims to gather the facts from the child's story as part of the investigation of child abuse. The interviews are observed live-time by law enforcement, Safe Passage advocates, and DHS workers (if involved), and are digitally recorded for use by the investigative team, thereby negating the need for multiple interviews with the victims.
Forensic Medical Exams – A team of Pediatric Sexual Assault Nurse Examiner (P-SANE) forensic nurses from the UCHealth Forensic Medical Team conduct on-site physical exams of child victims to ensure the well-being of the child and to aid in the investigative and prosecutorial processes.
Victim Advocacy – Safe Passage Family Support Advocates provide immediate crisis intervention, referrals to community resources, and ongoing advocacy to all child victims and non-offending caregivers who come to Safe Passage. Services are available even after the investigative and judicial processes are complete.
Psycho-Educational Support Groups – Contract therapists facilitate seven-week group sessions that are offered year-round with teen victims and, separately, with non-offending caregivers.
Other Mental Health Services – Children and non-offending caregivers receive referrals to mental health providers. One provider, the Family Center, is now on-site at Safe Passage's new co-located facility, making an on-site clinician available for immediate crisis needs.
Court Preparation and Accompaniment – Family Support Advocates assist child victims and their non-offending caregivers in understanding the court process. Advocates also accompany children and families to court, although most cases settle outside of a court proceeding.
With its new, co-located facility, Safe Passage is working to provide the highest quality of care to child victims and their non-offending caregivers so they can begin to heal from the trauma of abuse. Safe Passage, Colorado Springs Police Department, El Paso County Department of Human Services, Kidpower, the Family Center, UCHealth and El Paso County Sheriff's Office are all now housed in this one location for the continued coordination of services.
Read more about their work here
Read their story here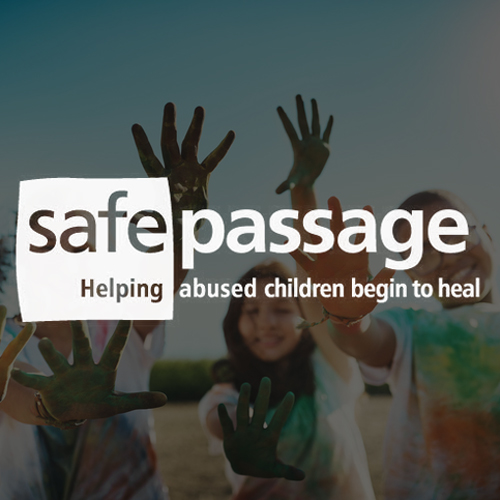 Learn more about the programs and services Safe Passage offers.