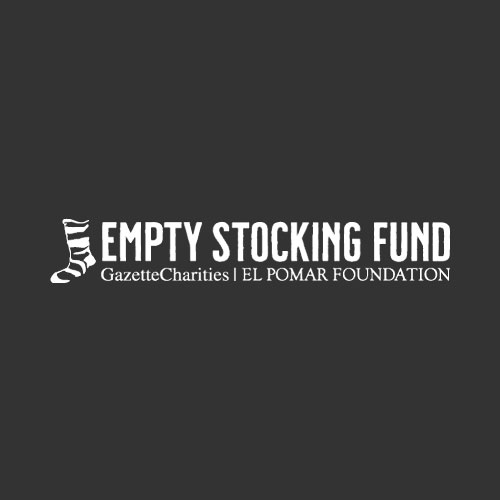 Empty Stocking Fund keeps long-term recovery going for our community
By Kelly Spieker, Gazette Charities Foundation
One donation.
20 agencies.
A whole community served.
Since 1984, the Empty Stocking Fund (ESF) has raised over $23 million dollars to help your neighbors stay in their homes; put food on the table; find resources for their mental and physical health in the community; Veterans make the transition to civilian life and find work; plus, so much more. The collective impact of the Fund's donors and its partner agencies can assume many of the burdens that our community faces, especially in light of recent global events that have left many of our neighbors vulnerable to hunger and homelessness, as well as to help assist with children's and healthcare needs. You can help.
Last year, the ESF raised $1,528,501, the highest amount ever raised in its 37 years. Now, more than ever, the Fund recommits to surpassing all former fundraising records and really stepping up for the community of friends and neighbors who need a temporary hand-up in these challenging days.
"People facing challenges is nothing new, but what is new is the sheer number of people in need of assistance, in light of the pandemic and its aftermath," said The Gazette President and Publisher Chris Reen. "Many individuals and families have overcome the obstacles in their paths, while others continue to struggle. Our partner agencies and frontline workers – everyday heroes – are there for them; ready, willing and able to provide help and hope."
Your giving dollars to ESF have allowed our partner agencies to provide these goods and services:
$1,000 provides 250 meals at the Marian House Kitchen
$500 provides 3,000 pounds of food for neighbors in need
$250 provides a family of four with two nights of shelter and nutritious food
$100 provides utilities for a veteran to keep the lights on and heat on during the winter months
$25 provides one night of shelter for a homeless mother and child
$10 provides two fully stocked back-to-school backpacks for students in need
—and so many more specific, sustainable opportunities to put your generous giving to work.
The Empty Stocking Fund partner agencies continue to work under difficult circumstances to engage those in need both virtually and in-person, where possible. And because administrative costs are generously covered by The Anschutz Foundation, Gazette Charities Foundation, The Gazette, El Pomar Foundation, Pikes Peak Community Foundation and ADD STAFF, 100% of the funds raised go directly to agencies to support those in need and ensure those who require resources and services know where they can go, log on, or call to obtain help.
The ESF team would also like to thank The Broadmoor, The Broadmoor World Arena, Cookie Charm, Fieldhouse Brewing, iHeart Media, Paul Franco and the Life Well Live Financial Group, Picnic Basket Catering, Signature Homes by Steve Scott, Summit Catering, The Venue at Almagre as well as many other organizations and individuals for their continued partnership and support.
The 2021-22 campaign will be held Thanksgiving Day through January 21, 2022.
Every dollar donated to the Empty Stocking Fund grows through matching funds from:
The Bruni Foundation – Matches $1 for every $10 raised up to $70,000
El Pomar foundation – Matches $1 for every $3 raised up to $200,000
If you are lucky enough to be in a financially secure position this holiday season, please donate to The Empty Stocking Fund to help neighbors experiencing precarious circumstances: Now more than ever, we must band together and keep our recovery going.
Call 719-476-1673 or visit emptystockingfundco.org to donate securely online.