Peak Vista Community Health Centers
The mission of Peak Vista Community Health Centers is to provide exceptional health care to people facing access barriers through clinical programs and education.
Peak Vista Community Health Centers (Peak Vista) provides primary medical, dental, and behavioral health care to more than 84,000 patients in Colorado's Pikes Peak and East Central regions. Many patients face both health disparities and access barriers to receiving medical care, such as poverty, insurance coverage, language barriers and lack of transportation.
First opening in 1971 as a single, volunteer-staffed clinic, Peak Vista now operates 27 health centers and provides a full range of medical, dental, and behavioral health care, as well as ancillary support services. As the only Federally Qualified Health Center in central Colorado, Peak Vista meets strict Federal requirements for quality of care and operational excellence. Our service area spans ten counties and 16,543 square miles in the Pikes Peak and East Central regions.
Peak Vista offers family practice clinics, along with specialized health centers that meet the unique needs of women, children, refugees, adults with disabilities, and people experiencing homelessness. Children and their siblings enrolled in Colorado Springs School Districts 2 and 49 receive care at Peak Vista's School-Based Health Centers located at Carmel Middle School and Falcon Elementary School. Patients can also receive after-hours and weekend care through walk-in appointments at Peak Vista's Convenient Care Center. Peak Vista's Family Health Center at Mitchell High School provides comprehensive primary medical, dental and behavioral health care. This facility is the first of its kind to serve the students and families of Mitchell High School, their families, and neighbors of all ages.
Patients have access to wrap-around services such as pharmacy, lab and enrollment services. Well-Child Waiting Areas are available at three of Peak Vista's high-volume locations and provide a safe waiting place for children during their sibling or parent's appointment. Enrollment specialists are on-staff to guide patients through new patient enrollment, Medicaid, CHP+, and CICP applications. Peak Vista's outreach programs and health education classes encourage individual and community wellness in nutrition, early childhood development, and chronic disease management. In July of 2020, recognizing the growing need for comprehensive Behavior Healthcare needs in our community, Peak Vista opened the Enrichment and Counseling Center (ECC) at our Academy Campus. The ECC is staffed by a Psychiatrist, aPsych-Nurse Practitioner, and licensed counselors for both adults and children. This new site gives Peak Vista the opportunity to address behavioral health concerns that require more time than what is available in an integrated care model, such as extended counseling services and behavioral health medication management, helping fill an additional care gap for our patients and community.
Read their story here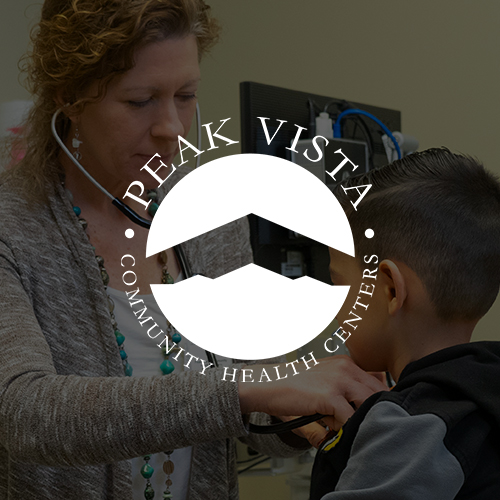 Learn more about the programs and services Peak Vista Community Health Centers offers.