Tri-Lakes Cares
Tri-Lakes Cares is a community-based, volunteer-supported resource center whose purpose is to improve people's lives through emergency, self-sufficiency and relief programs.
Tri-Lakes Cares (TLC) has been meeting the needs of economically disadvantaged residents of northern El Paso County for the past 35 years. Originally founded as a food pantry in 1984 by a group of citizens concerned for the wellbeing of the growing number of neighbors living in or near poverty, TLC quickly grew in response to its clients' evolving needs. Believing in the strength of a centralized organization, services included not only the food pantry, but also gently used clothing distribution and financial emergency assistance on a limited basis.
TLC aims to avoid duplication of services, and the distance between its location and other similar agencies naturally discourages the likelihood that duplication will occur. Serving 5 zip codes (80132, 80133, 80908, 80921, and 80840) in northern El Paso County, assistance is provided to clients within this dedicated service area. The Help Yourself Market is the most lenient of available programs, allowing individuals to access donated food items such as produce, dairy, eggs, prepared meals, and baked goods. If an individual is seeking financial assistance, a more rigorous screening process is in place to determine eligibility.
Tri-Lakes Cares remains an important community resource. If TLC were not here, then clients would either have to go without in order to make ends meet or try to access services at organizations with already limited resources.
Today, TLC remains a grassroots organization – in fact, many programs continue to be managed by volunteers – operating a host of services designed to help clients make ends meet, persevere through an emergency, and progress towards self-sufficiency. These services include 6 food insecurity programs, housing and utilities assistance, a Neighborhood Nurse Center in partnership with Penrose-St. Francis Health Services, post-secondary education assistance, youth enrichment endeavors, self-sufficiency programs, and so much more.
Read their story here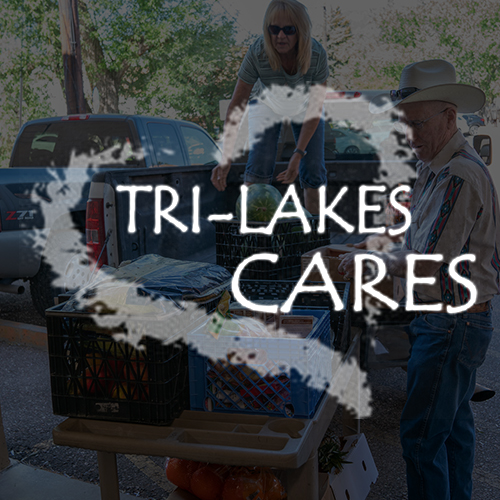 Learn more about the programs and services Tri-Lakes Cares offers.