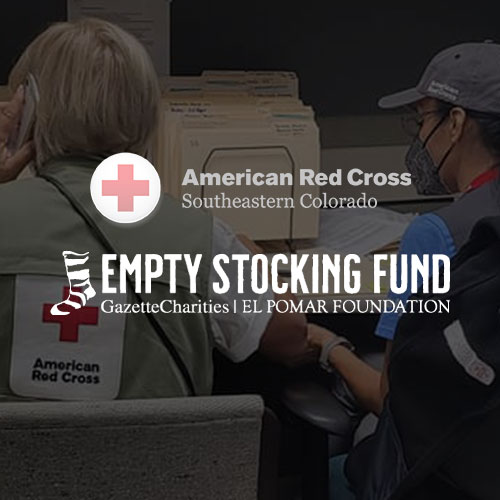 The Personal Roots of Volunteering
By Catie Ballenger, American Red Cross of Colorado and Wyoming Public Affairs
Dana Goldsmith had deployed with the Red Cross 27 times. These deployments have taken her to two different countries and 11 states. She has provided care and comfort to those impacted by hurricanes, wildfires, volcanoes and beyond. Her most current deployment brought her to Sacramento California as the Disability Integration team manager.
When Dana is asked about the importance of Disability Integration, she gave an example from her latest deployment. "A California Wildfire evacuee with severe autism was having a tough time adjusting to life in a shelter. All his normal structures and supports were gone. He was combative, continuously tried to run away and was nonverbal and couldn't communicate his stress. His guardians were exhausted. We worked together with disaster health and disaster mental health to get the child back in school."
Volunteering has very personal roots for Dana. She became a Red Cross volunteer and later an employee because her parents were evacuated from the 2012 Waldo Canyon Fire in Colorado Springs, Colorado. "I watched my city come together in an amazing way to support each other. I wanted to be a part of that movement. I chose disability integration because I have a disability, my son has multiple disabilities and my husband has multiple disabilities. I spent a large part of my life advocating for them and a large part of my career learning to advocate for others. This work doesn't feel like work. It's what I'm meant to do!"
"We contacted social services to get parent assistance and provided self-soothing and fidget tools to help him stay calm and comforted when he is in the shelter. My team could secure a private room for the family where they could 'nest' and create a comfortable space for all. The child and his family are all safely thriving in our Red Cross shelter because of the herculean effort from both internal and external partners!"
The Southeastern Colorado Chapter of the American Red Cross held its annual Volunteer Recognition Celebration for 2018 at The Pinery at the Hill in Colorado Springs, CO, on 5/18/19. Dana Goldsmith, Volunteer Engagement Specialist for the Chapter, reveals the secret to her success during the event. Photo by R.W. Firth/American Red Cross
Dana has found family, not just friends, among her fellow Red Crossers. She encourages other volunteers to considered disaster deployment. "There's nothing like this experience. It will be hard and confusing and feel chaotic and uncertain. But you will be stronger, smarter, better and more fulfilled than you ever have been. You will meet others along the way that struggle beside you, hold you up and teach you things. It's a beautiful, life-changing experience that will change the course of your life for good."
Current Deployment Numbers: 52 Colorado and Wyoming staff/volunteers deployed to disasters across the country
Disaster Relief Costs:
$24,000 stocks an Emergency Response Vehicle (ERV) with needed supplies for 3 days. ERVs provide lunch, dinner and snacks for some 400 people over the 3 days. Four of our CO ERVs have been deployed, each with 2-3 volunteers.
$10,000 opens a shelter for 1 night.
$6.050 provides financial assistance for up to 10 families with damaged or destroyed homes.
$3,500 provides a cleanup kit (mop, broom, gloves, bleach, pail, etc.) and comfort supplies for 10 families.
$1,750 supports 1 volunteer with travel, lodging and food for their 12-day deployment.